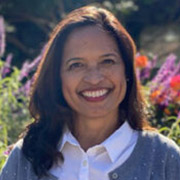 Elaine Manansala Gomez is a seasoned Pediatric Nurse Practitioner (PNP) who has worked in our clinic since 2007. She holds a Master of Science and Pediatric Nurse Practitioner degrees from UC San Francisco. After graduating high-school in the Napa Valley, she attended and graduated from CSU, Sacramento with a Bachelor of Science in Nursing degree. She has worked as a RN and then PNP in Sacramento before she and her young family moved back "home" to Napa.
She likes all aspects of pediatrics, but especially finds joy in educating new parents, teenagers and just watching children & families grow throughout the years. She shows compassion and empathy for families in their times of need, stress, and during illnesses.
Elaine and her husband have 3 children. Her kids continue to be her very best teachers in the realm of pediatrics. She adores books, 20-minute runs, a good night's sleep, and planning of trips near and far.